Abstract
This talk will discuss the establishment of an industry-backed composites research center in Abu Dhabi, UAE. The agreement to establish the center was signed at the Dubai Airshow in November 2013 and the laboratory was finally completed and opened in late 2016, Figure 1a. ARIC is funded through a partnership between Mubadala (an investment arm of the Abu Dhabi Government) and Khalifa University and was established to support the manufacturing operations of Strata, a composite aerostructures company based in the Emirate of Abu Dhabi. Strata has established partnerships with Boeing and Airbus as well as tier one suppliers such as FACC, SABCA and SAAB. ARIC provides research support for Strata, with its engineers spending extended periods in the research laboratory and ARIC personnel being based part-time in the company. Phase I of ARIC was completed in December 2018 and focused on composites manufacturing and automation in component assembly. Phase II of the center involves extending these topics as well as focusing on AI and additive manufacturing initiatives. Research in ARIC is underpinned by an array of equipment that includes an autoclave, RTM press, an industrially-sized metal printer, an X-ray computed tomography system as well as robotic arms for automated drilling and assembly. The talk will also present the findings of on-going research projects, such as activities to investigate scaling effects in the manufacture and testing of resin-infused composite structures.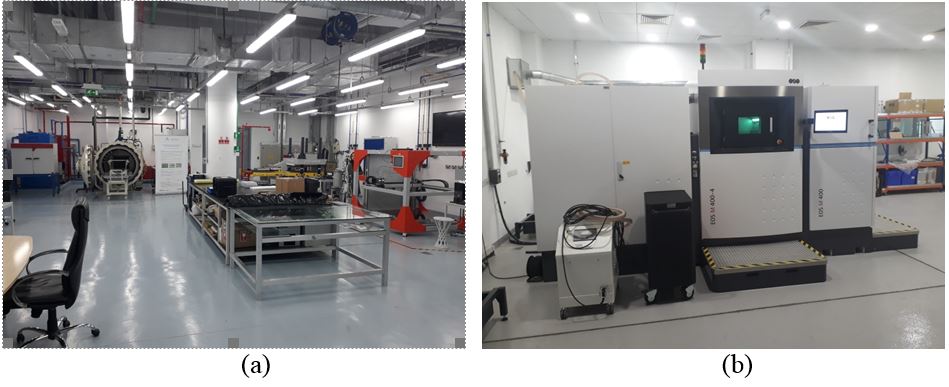 Figure 1: (a) Photograph of the ARIC laboratory and (b) the EOS 400-4 additive manufacturing machine.
References
[1] A. Al Antali, A. Ruzanna, R. Umer, W.J. Cantwell, Scaling effects in the manufacture and testing of composite grid-stiffened structures, Journal of Composite Materials, v52(17), 2351-2363 (2018).